By Lobsang DS Subirana and Nattakarn Jeamrugeekul
Bangkok, May 15 (EFE).- Thailand's pro-democracy opposition parties were on track to win the nation's general election Sunday as they looked to end almost nine years of military governments through a coalition with one of the country's most popular formations.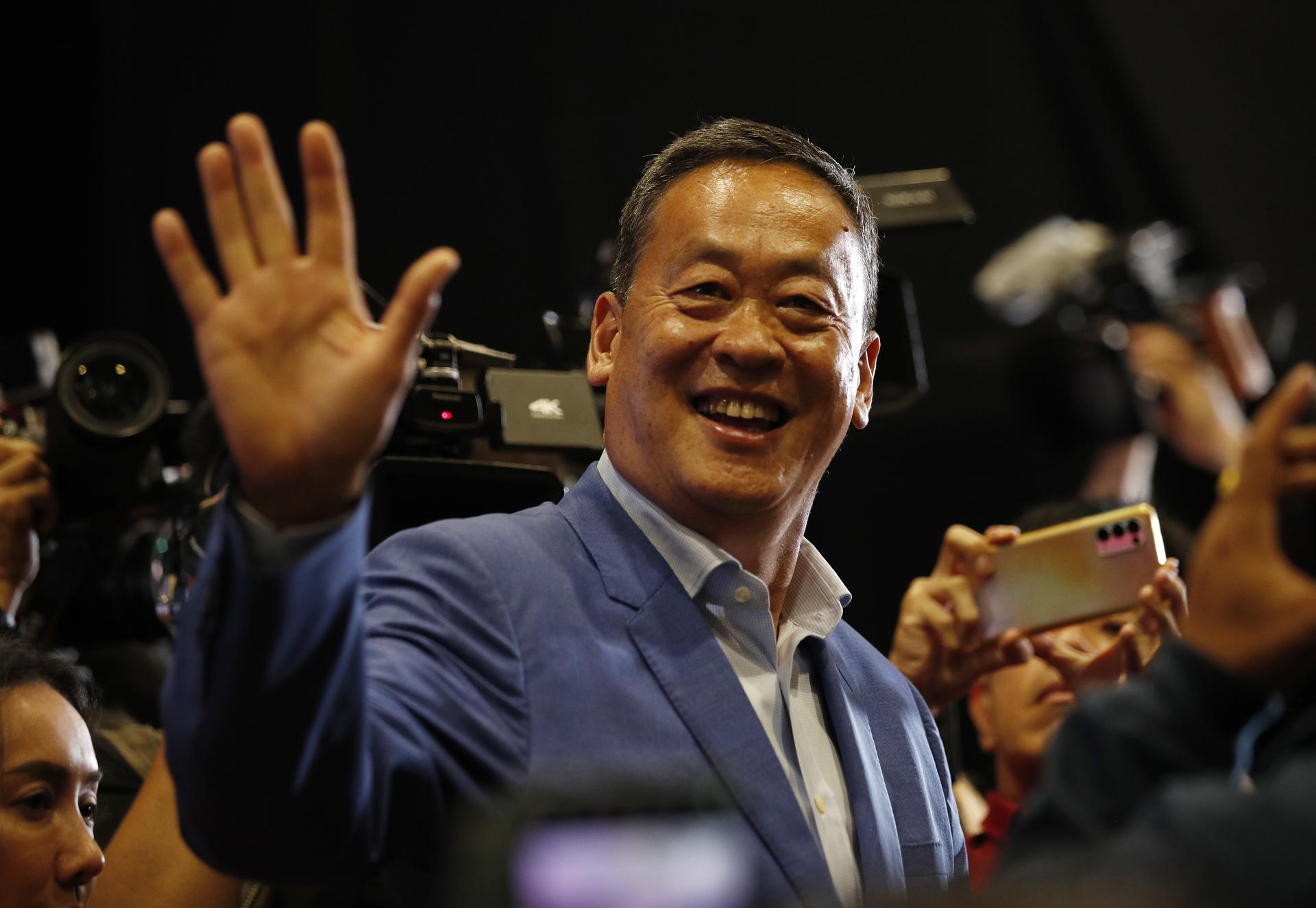 With 97 percent of ballots counted, Move Forward party led the polls with 113 constituency seats and 13.4 million party-list votes, while the Pheu Thai party followed closely with 112 and 10.3 party-list votes – fewer than those needed to form a coalition government but far more than the incumbent Palang Pracharath's 39 seats. The election commission said it would publish the unofficial preliminary results Monday at 10:30am (3:30am GMT.)
"If Move Forward garners the most votes, I intend to form a coalition with all the opposition parties as I promised to the people," Future Forward leader Pita Limjaroenrat said Sunday following the results, referring primarily to Pheu Thai, whose prime minister candidate Paetongtarn Shinawatra is the face of the formation.
More than 50 million Thais were called to vote in elections seen as a barometer on democracy, pitting parties led by former coupmakers and army leaders against reformists campaigning on promises of radically changing Thailand's volatile political structure.
"Right now, we're certain that we have reached our goal for this election. At the minimum, we are confident that we have reached a three-digit result – which is over 100 – for sure," Pita added.
Both formations began as favorites and mostly met expectations in their quest to turn the tide on a country under Gen. Prayut Chan-ocha's rule since he ousted Paetongtarn's party in a 2014 coup, then led by her aunt Yingluck.
Preliminary results galvanize the return to power of the influential Shinawatra family, whose former leader Thaksin – Paetongtarn's father – remains in self-imposed exile since a military putsch removed him from power in 2006, eight years before his sister met the same fate.
Pita said Sunday night at a press conference at the party headquarters that he supports Thaksin's return to Thailand, adding that it was a human right to live in one's country and be tried in a fair judicial system.
The tycoon remains widely popular among Thailand's working class, but is disliked by the country's elite and military establishment. His party and proxy formations have routinely won the most votes in all elections since 2001, only being removed from government through power grabs.
Pheu Thai on Sunday again produced a clear lead over Prayut's United Thai Nation's lowly 23 seats and Deputy Prime Minister Gen. Prawit Wongsuwan's Palang Pracharath party. The two split forces for the election after having governed the country together for nearly a decade.
However, Thailand's current constitution – drafted by and passed under the former military junta – allows the unelected upper house of parliament to vote for the prime minister, giving parties affiliated to them a large advantage over other formations.
The 250-seat chamber is entirely hand-picked and comprises mostly senators with a background in the armed forces.
Along with the 500-seat lower house, parliament combines to form 750 available seats, with parties needing 376 of those to govern.
Though the upper house is expected to back Prayut and Prawit's formations as it did in 2019, their current seats remain insufficient to achieve a majority, even under a conservative coalition.
The prime minister looked glum as he thanked voters for their support and left the United Thai Nation headquarters immediately after results became clear, as he tried to wade through the media's questions.
"Thank you to those who voted for us," Prayut said. "I will continue to do my best, no matter what."
The Bhumjaithai Party, who pushed the country's recent legalization of cannabis and played kingmaker by supporting Prayut's coalition in the last election, could again be pivotal in the formation of a government, although Pita said he believes current opposition parties would secure enough seats.
Led by Health Minister Anutin Charnvirakul, who voted donning a t-shirt with marijuana leaf imprints, the party was third with 67 constituency seats and 1 million party-list votes, clearly outperforming Palang Pracharath – whom he helped to power in 2019 – and its allies.
Some attribute the current establishment's decline to insufficient economic growth since seizing power nine years ago, a mismanagement of the Covid-19 pandemic and the disproportionate crackdown on pro-democracy protests in late 2020.
The student-led demonstrations were a turning point in Thai history, as people demanded a series of reforms to the nation's politics and monarchy – a previously unthinkable event due to the country's strict laws sheltering the royal family from criticism.
The vaguely worded criminal code's Article 112 punishes anyone found to have defamed the king and other members of the royal household with three to 15 years in prison.
More than 200 people were arrested for violating the law during the protests, which drew tens of thousands to the streets, sparking widespread criticism and condemnation from international human rights organizations. Pita told reporters his formation would push to reform the draconian law if elected.
Hope was widespread Sunday night at the Move Forward headquarters, as supporters celebrated the party's lead. Among the voters was Jomjan Khangkhan, 58, who said the party would define the country's future and that she voted for them because they are the only party who listened to people's demands.
"These are demands that were presented to other parties and were ignored. Only Move Forward promised to take these demands into account," Jomjan said. "Besides, this is the younger generation's future, and I'm already old. I want to choose the future for the young. I didn't vote for myself. I want the young to graduate and have jobs, have a better future and better welfare."
Parit "Itim" Wacharasindhu, the party's policy campaign manager, echoed Jomjan's words, saying very little had changed in the last nine years and that it was time for change.
"Right now, although we're not under a military regime, we're still under a constitution that was drafted by the military regime and has a lot of un-democratic content," he said, adding that educational reform, welfare and workers' rights were at the top of Future Forward's agenda along with supporting small and medium enterprises.
He also said the party plans to decentralize power to avoid more coups, adding that "I still believe that the majority of the people who enroll in the army want the military to be a professional military that does not intervene in politics. There's only a few of them, the high ranking generals, who involve the military in political affairs."
Parit, a former conscript himself, spoke about how Move Forward doesn't want to intervene with professional soldiers whose aim it is to protect the country, but to bring the military under civilian control and make it accountable to the people.
"That's the only way to restore faith in the army," he said.
The political challenge of forming a government now awaits Thailand's umpteenth attempt at liberal democracy, a possibly daunting task following one of the country's most consequential elections in recent history. EFE
lds-nj