Harare, Aug 27 (EFE).- President Emmerson Mnangagwa of Zimbabwe clinched another five-year mandate late on Saturday, securing over 52 percent of the votes amid fraud allegations that have cast a shadow over a closely watched election.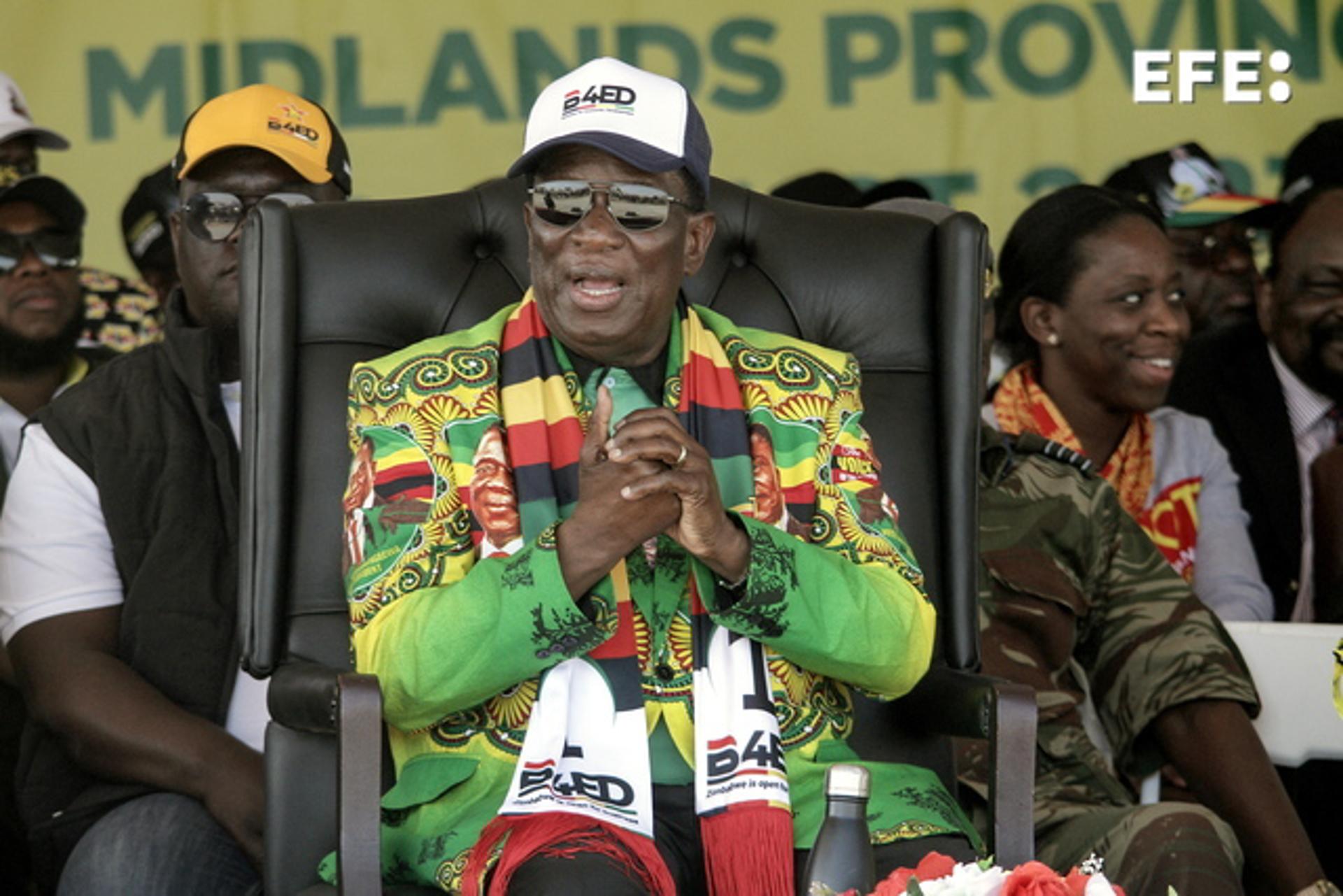 Mnangawa, 80, of the ruling ZANU-PF secured more than 2.35 million votes, equivalent to 52.6 percent of the total ballots cast, Zimbabwe Electoral Commission head Priscilla Chigumba told reporters in Harare.
Nelson Chamisa, the contender from the opposition Citizens' Coalition for Change (CCC), secured second place with 1.96 million votes, making up 44 percent of the total vote.
"Therefore, Emmerson Dambudzo Mnangagwa is declared the president-elect with effect from August 23, 2023," said Chigumba.
The opposition CCC has rejected the election outcome, alleging widespread fraud.
Chamisa's chief election adviser, Charles Kwaramba, refused to endorse the result sheet.
"We do not recognize the results. It is a stolen victory and fraudulent elections," Kwaramba told EFE.
Nine more candidates were in the fray, but none could secure more 1 percent of the vote.
The election saw a voter turnout of 68.9 percent among the eligible six million voters over the two days — August 23 and 24.
The voting was for one day only, but the president extended it for another day in some constituencies due to the delay in opening polling stations.
Zimbabweans also voted to pick new lawmakers. The ruling Zimbabwe African National Union-Patriotic Front (ZANU-PF) won the majority of parliamentary seats.
The election process has sparked varying responses from international observers, with may claiming irregularities and misconduct by the ruling party and the failure in providing a level playing field.
European Union (EU) observers said the voters could not make free and informed choices despite the "generally calm atmosphere" on the election day.
"Curtailed rights and lack of level playing field led to an environment that was not always conducive to voters making a free and informed choice," the head of the EU's observer mission, Fabio Massimo Castaldo, said.
But the joint mission of the African Union (AU) and the Common Market for East and South Africa (Comesa) called the elections "transparent."
However, they regretted the elections did not comply with the constitutional requirements for various reasons, including the failure of the Zimbabwe Electoral Commission to provide the opposition with the voter list on time.
Zimbabweans went to the polls against a backdrop of energy shortages and rising living costs worsened by inflation.
Global rights groups like Amnesty International and Human Rights Watch expressed concerns over the fairness and credibility of the election.
"Zimbabwe's authorities have yet again demonstrated a lack of respect for the basic freedoms necessary for a credible, free, and fair election," said HRW's senior Africa researcher Idriss Ali Nassah before the voting day.
HRW said the authorities adopted repressive laws and used intimidation and violence against the opposition, while the partisan conduct by police further undermined the electoral process.
"The authorities have weaponized the criminal justice system against the ruling party's opponents," an HRW report said Thursday. EFE
cz-ssk