Rafah, Gaza, Oct 21 (EFE).- The Rafah border crossing between Egypt and Gaza opened Saturday to deliver desperately needed humanitarian aid to the war-ravaged Palestinian enclave, running short of food, medicine, and water under an Israeli blockade.
The crossing point was closed again soon after 20 trucks headed into Gaza to deliver aid as the strip endured two weeks of devastating Israeli bombings and has been under a crippling blockade for the past 15 years.
It is currently unknown when the crossing will reopen again as hundreds of trucks loaded with thousands of tons of aid for Gaza have queued up for several days to enter the strip as Israeli military rained bombs on the enclave to dismantle the Hamas network.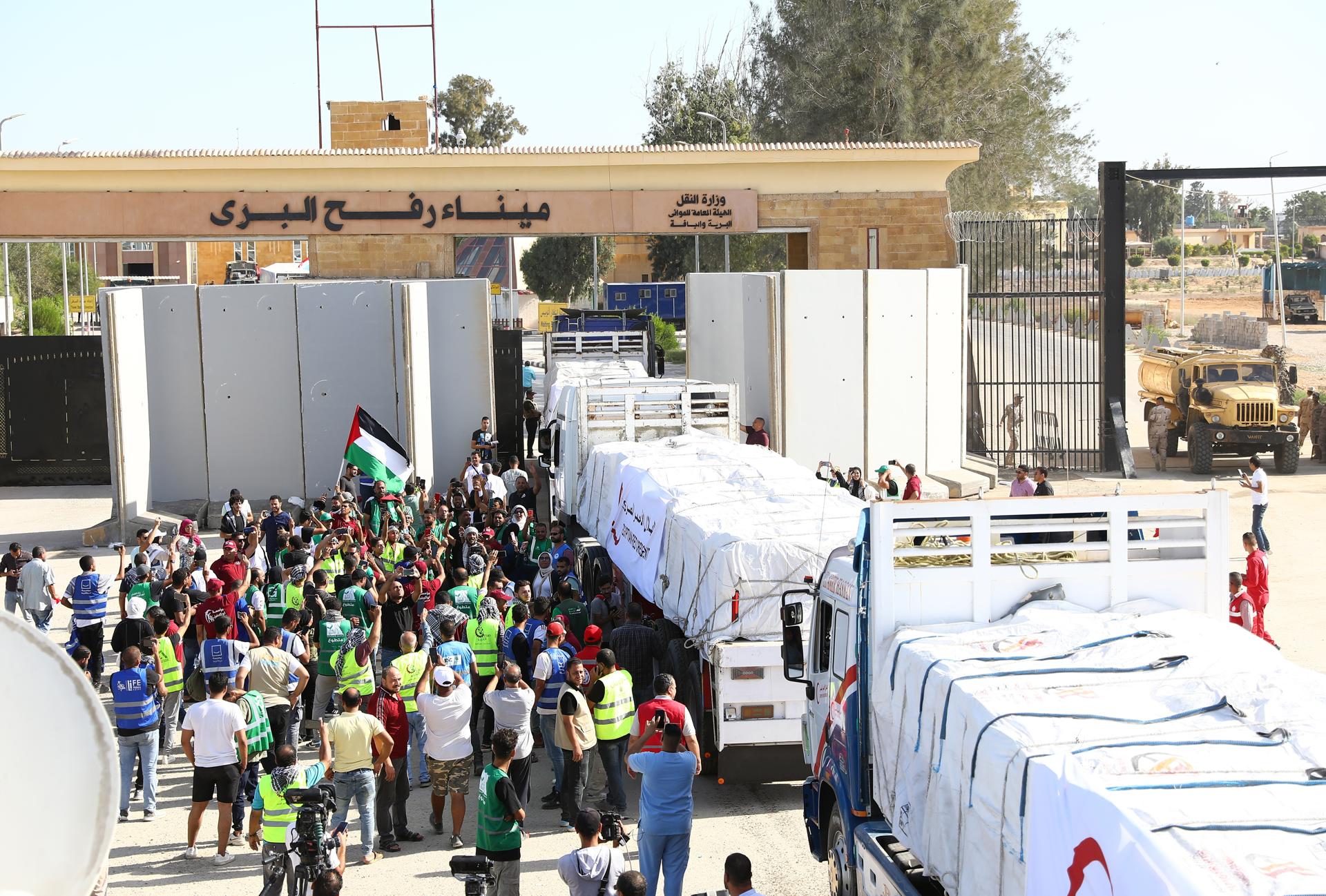 The Israeli military intensified its blockade and attacks on the enclave in response to a multi-pronged surprise attack by hundreds of Islamist Hamas militants on Israel on Oct.7.
Khaled Said, the head of the North Sinai Red Crescent, told EFE that the crossing was closed on both sides after 20 truckloads of aid reached Gaza, and the vehicles returned to Egypt.
He emphasized that the trucks carried only medical aid and no fuel to Gaza.
The timing of the next aid delivery to the Palestinian enclave and the number of trucks allowed entry remain uncertain.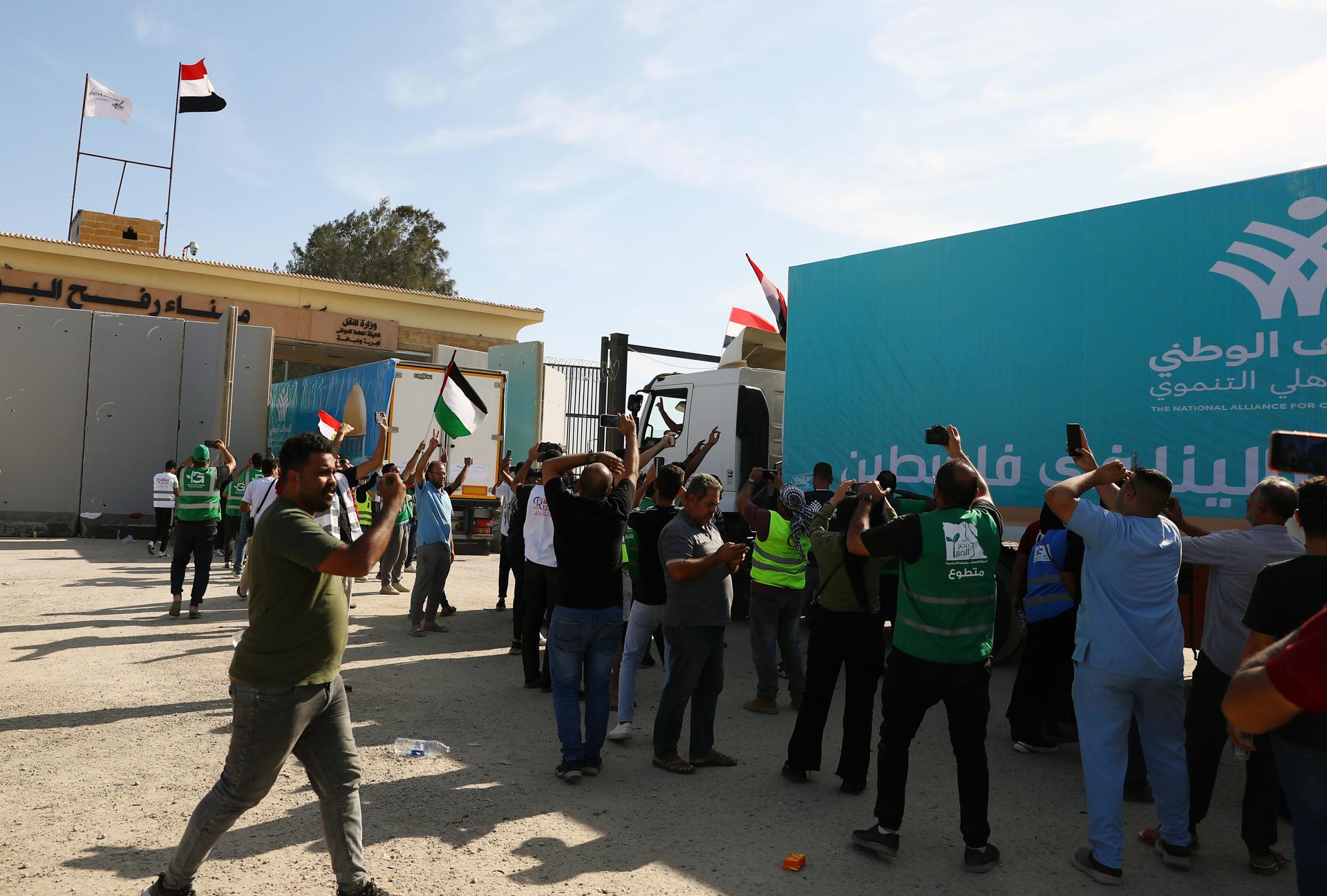 He said there was no information concerning the departure of foreigners in Gaza, and the specifics regarding how and when it might happen were unknown.
An Egyptian Red Crescent press statement said it transported humanitarian aid to the Gaza Strip for delivery to the Palestinian Red Crescent.
The aid was the second batch of supplies after the first reached on Oct.9 before the Israeli military enforced the complete blockade of the strip.
The statement said that the aid was to fulfill basic medical and relief needs according to the requirements of the Palestinian Red Crescent.
Andrea De Domenico, Deputy Director of the OCHA Office in the Palestinian territories, told EFE that the aid was insufficient for the Palestinians in Gaza.
The strip is home to 2.3 million people. The Israeli bombings have internally displaced 1.4 million already.
De Domenico noted that negotiations are underway to ensure that aid is delivered sustainably over time.
Volunteers from the Egyptian side of Rafah told EFE that no ambulances or fuel trucks entered.
The delivery of aid offered a much-needed respite after days of waiting to assist the besieged Palestinian enclave where thousands have died and thousands more wounded in an Israeli military rampage.
Egyptian aid volunteers worked diligently to repair the road damaged by Israeli bombings.
The humanitarian effort offers a glimmer of hope amid the ongoing challenges facing the people of Gaza.
The reopening of the Rafah border crossing coincided with an international summit held in Egypt's New Administrative Capital to address the Middle East conflict following the recent escalation of violence.
The summit convened under the leadership of Egyptian President Abdel Fattah al-Sisi.
UN Secretary-General António Guterres, Spanish Prime Minister Pedro Sánchez, Palestinian President Mahmoud Abbas, and Jordanian King Abdullah II were among the attendees. EFE
sin-ar-rsm-ssk