London, Jul 10 (EFE).- All-time great Novak Djokovic and current world No. 1 Carlos Alcaraz both booked spots in the Wimbledon quarterfinals with convincing wins on Monday.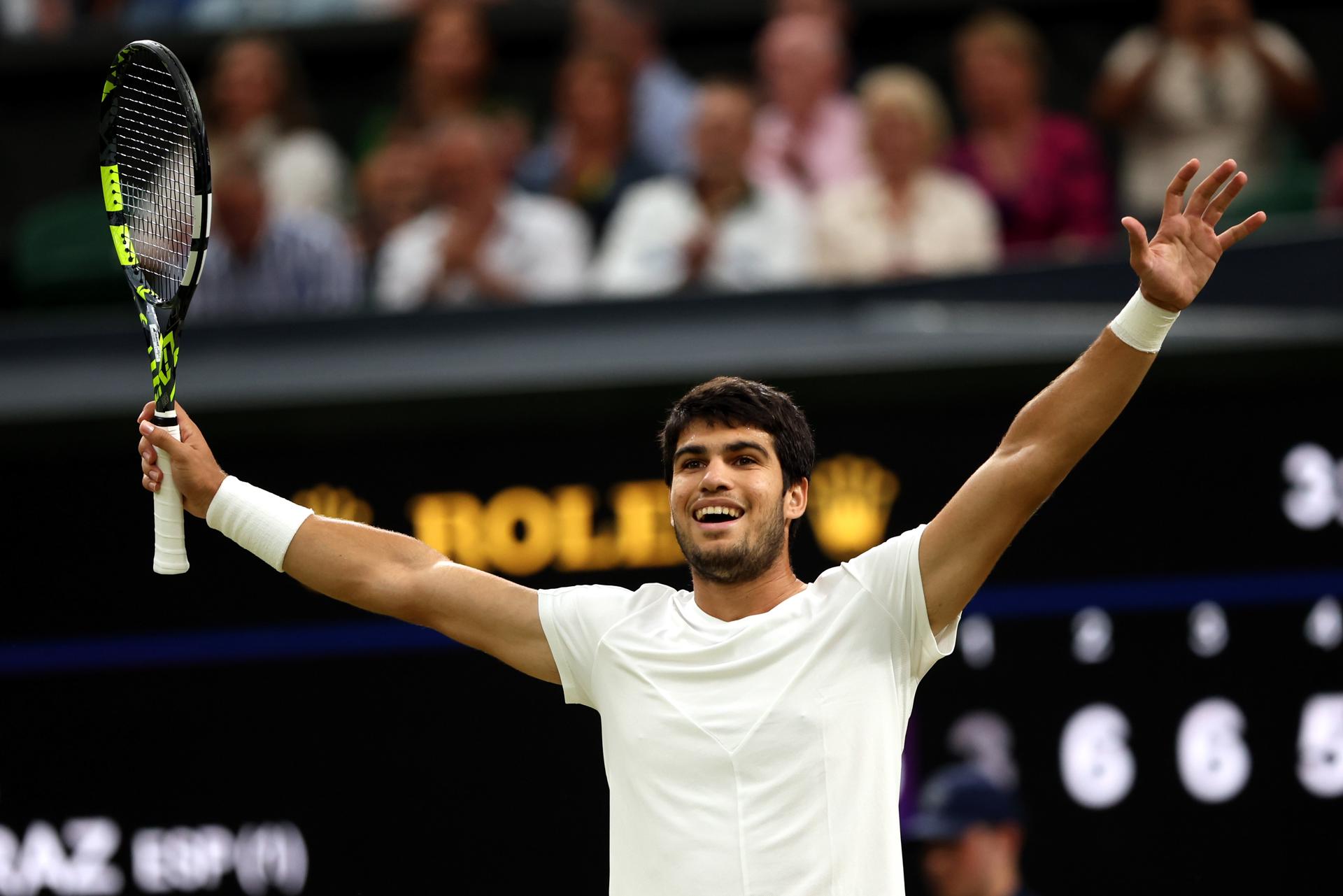 Djokovic, winner of a record 23 Grand Slam men's singles titles, returned to the court on Monday, a day after his round-of-16 match against Poland's Hubert Hurkacz was suspended due to the 11 pm curfew at the All England Club.
Although Hurkacz had gone toe-to-toe with the Serbian on Sunday thanks to his phenomenal serving, Djokovic managed to grab a two-set lead by eking out the first two sets in tiebreakers.
Djokovic gave himself that cushion thanks to more clutch play on the biggest points, despite not having recorded a single break of serve to that point in the match.
On Monday, he continued to struggle on return and then surprisingly dropped his own serve in the 12th game to lose the third set.
The key game of the contest then came midway through the fourth set, when Djokovic ended more than two and half hours of frustration by finally breaking serve when Hurkacz misfired badly on a inside-out forehand.
A few games later, the Serbian clinched a 7-6 (8-6), 7-6 (8-6), 5-7, 6-4 victory with a comfortable service hold.
"Honestly, I don't recall the last time I felt this miserable on returning games to be honest, due to his incredibly accurate and powerful serve," Djokovic said afterward.
Next up on Tuesday for the Serbian great will be seventh-seeded Russian Andrey Rublev, who outlasted Kazakhstan's Alexander Bublik in five sets on Sunday.
In other fourth-round action Monday, Spanish world No. 1 Carlos Alcaraz showed his growing comfort level on grass, rallying from a first-set deficit to cruise past 2021 runner-up Matteo Berrettini of Italy 3-6, 6-3, 6-3, 6-3.
Like Hurkacz, Berrettini possesses one of the biggest first serves in tennis.
But Alcaraz seemed to have a read on it from the outset, earning a whopping 16 break points and converting four of them – one in the second set, two in the third set and one more in the final set.
His next match on Wednesday will be a much-anticipated quarterfinal clash against fellow 20-year-old Holger Rune of Denmark, a contest that could be the first of many meetings in the late rounds of Grand Slam tournaments.
Rune also rallied from a one-set deficit Monday to defeat Bulgaria's Grigor Dimitrov 3-6, 7-6 (8-6), 7-6 (7-4), 6-3.
Russian No. 3 seed Daniil Medvedev, for his part, took care of business against Jiri Lehecka of the Czech Republic, who retired with a foot injury after losing the first two sets 6-4, 6-2.
In Wednesday's quarterfinals, he will take on surprise American Christopher Eubanks, who notched a 3-6, 7-6 (7-4), 3-6, 6-4, 6-4 upset victory over Greek No. 5 seed Stefanos Tsitsipas.
In women's singles fourth-round action, American Madison Keys rallied to defeat 16-year-old Russian Mirra Andreeva 3-6, 7-6 (7-4), 6-2.
She will next square off in the last eight against Belarusian world No. 2 Aryna Sabalenka, who stormed past Russia's Ekaterina Alexandrova 6-4, 6-0.
Last year's Wimbledon champion, third-seeded Kazakh Elena Rybakina, and runner-up, Tunisian No. 6 seed Ons Jabeur, set up a blockbuster quarterfinal match with victories on Monday.
Rybakina advanced when Brazil's Beatriz Haddad Maia retired with a back injury while trailing 4-1 in the first set, while Jabeur routed two-time Wimbledon champion Petra Kvitova 6-0, 6-3. EFE
/mc