Asunción, Oct 12 (EFE).- Hundreds of Indigenous people in Paraguay demanded their communities' rights to land and drinking water during a march that toured the streets of Asunción on Thursday to mark the "Day of Indigenous Resistance."
Adults, youth, and children from different parts of the country gathered in front of the Congress, from where they marched silently to the rhythm of tangará music – the traditional dance of the Mbya Guaraní – to Asunción's Plaza Italia.
The director of the National Indigenous Articulation for a Dignified Life (ANIVID), Maria Luisa Duarte, told EFE that one of their main demands "is the security of the land," referring to land tenure rights.
"No more evictions," said the leader, who demanded "demarcation, titling in the name of the indigenous communities" and "development in different forms," denouncing that "the communities suffer from many needs."
In particular, she warned of the situation in the Paraguayan Chaco, where, she assured, the indigenous people "suffer from a great need for water, although Paraguay is one of the countries with the most fresh water in the world.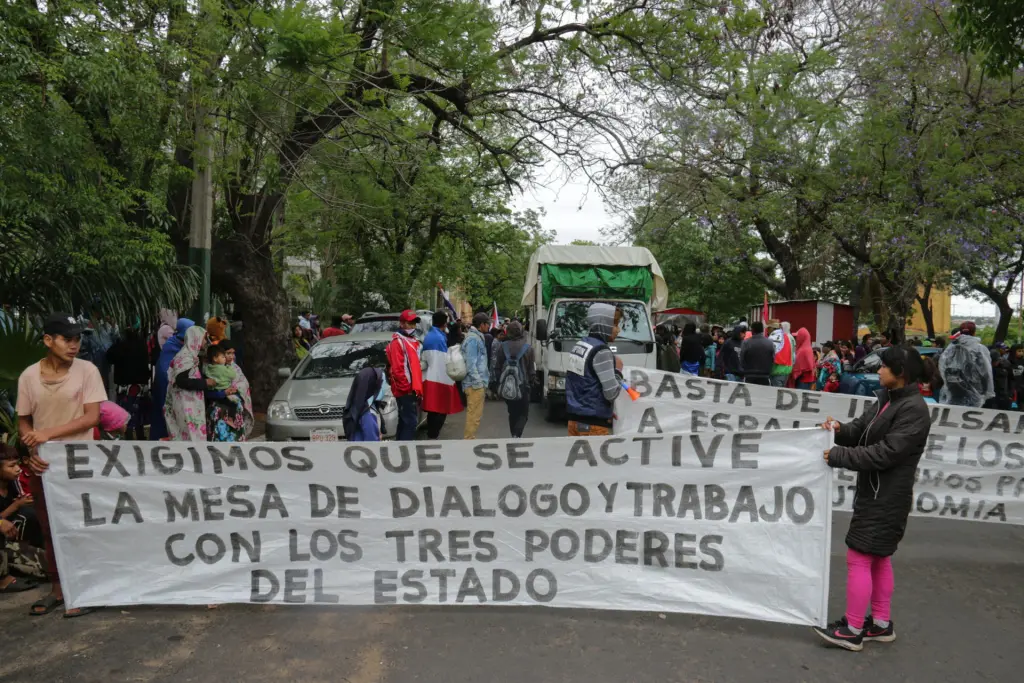 Duarte emphasized that they have set up a dialogue table with the Ministry of the Interior and other state institutions, in which they hope to ratify compliance with the laws and address issues of interest to indigenous communities.
The president of the Paraguayan Indigenous Institute (Indi), Marlene Ocampos, told journalists that the government supports "all the demands of the indigenous peoples.
"We are now implementing the National Plan for Indigenous Peoples, which is a valid tool to work with all institutions and bring a better quality of life to all indigenous peoples," Ocampos said.
The official spoke at the end of a meeting with delegates of the protesters, which was attended by the Minister of the Interior, Enrique Riera.
Some 140,206 indigenous people live in Paraguay, belonging to 17 different ethnic communities, according to the 2022 census. EFE
rp/mcd/ar
(Photo) (Video)