London, Jul 16 (EFE).- Carlos Alcaraz said Sunday was going to be the best day of his young life and it was. The 20-year-old Spaniard prevailed 1-6, 7-6 (6), 6-1, 3-6, 6-4 over reigning champion Novak Djokovic to claim his first Wimbledon title.
Since his father first put a racket in his hand, Alcaraz had dreamed of winning a Wimbledon final against one of tennis' all-time greats.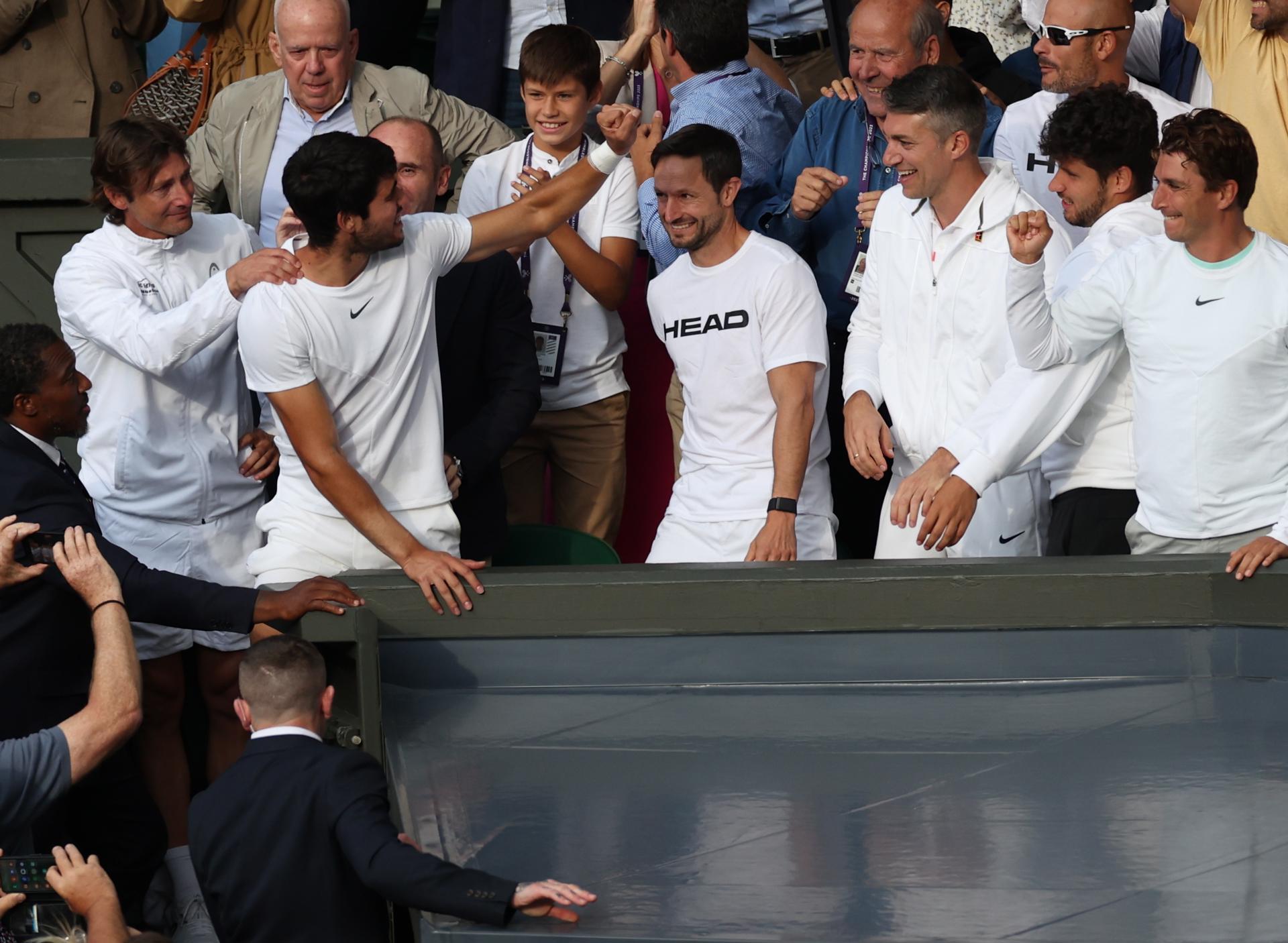 Thwarting the Serb's bid for an eighth Wimbledon title and 24th victory in a major tournament, the world No. 1 became the fifth Spanish player to lift a trophy at the All England Club, joining Manolo Santana, Conchita Martinez, Rafael Nadal, and Garbiññe Muguruza.
Alcaraz, the third youngest man to win Wimbledon after Boris Becker and Bjorn Bjorg, was only 10 years old the last time Djokovic, 36, lost a match on Centre Court.
The Spaniard noted ahead of Sunday's match that Djokovic had played in 35 Grand Slam finals while he had only been in one: the 2022 US Open, where Alcaraz defeated Casper Ruud.
The difference in experience was on display in the first set, as world No. 2 Djokovic committed only two unforced errors on the way to winning 6-1.
Alcaraz took a 2-0 lead in the second set, but the Serbian pulled level and each player held service until the tiebreaker, which is usually comfortable territory for Djokovic, winner in 15 consecutive Grand Slam tiebreaks coming into the Wimbledon final.
Yet it was the veteran who stumbled, committing two unforced errors at 6-5, and Alcaraz took the set.
The youngster stormed to a 4-1 advantage in the third set and broke Djokovic – on his eighth try – in an epic game that lasted 27 minutes, going on to win the set 6-1 for a 2-1 edge in the match.
The two men were even at 2-2 in the fourth set when Djokovic broke Alcaraz.
Re-energized, the Serb rolled to a 6-3 victory to force a fifth set.
Djokovic won the first game, but failed to convert a break point in the second and the score was 1-1 when Alcaraz broke the Serbian to go up 2-1.
A frustrated Djokovic cracked his racket on the net post. Though he managed to win three more games, he couldn't break Alcaraz and the laurels went to the Spaniard.
"Well, it's a dream come true for me," Alcaraz said on court after hoisting the trophy. "For me, it's incredible. As I said, it's a dream come true to be able to play in this stages, it's amazing for a boy 20 years old, I didn't expect to reach these kind of situations really fast.
"I'm really proud of myself and really proud of the team that I have. The work we put in every day to be able to live this experience," he said.
Congratulating Alcaraz, Djokovic praised the Spaniard's "amazing" adaptation to playing on the grass at Wimbledon.
"I thought I'll have trouble with you on clay and maybe hard, not on grass," the runner-up told the champion. "Amazing way to adapt to the surface."
EFE msg/dr